A day at the National Portrait Gallery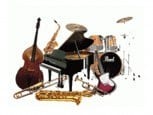 On Wednesday 21 May a group of Grade 4 students from our Kensington Campus spent the day at the National Portrait Gallery in central London.  There the group enjoyed some of the fabulous artworks on display and took part in a songwriting workshop with professional jazz pianist and composer Pete Letanka.
Pete has lead educational projects for the Royal Opera House, London Philharmonic Orchestra and is currently the music director of Glyndebourne Youth Opera.
Our students composed an original song during the workshop which was inspired by a portrait of the writer and poet TS Eliot.  They performed it with gusto to gallery visitors on the day and again to the whole school in the next Town Meeting.  Bravo!
Published on: 4th August 2014