G8 & G9 students visit the costal city of Cartagena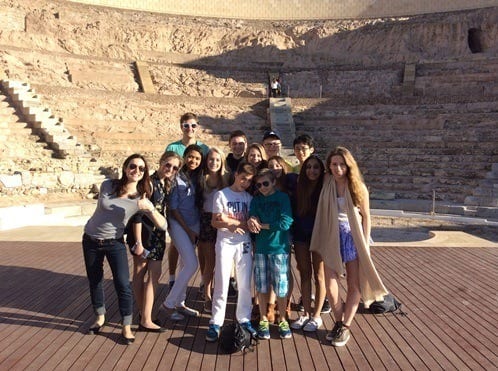 A group of twelve Grade 8 and 9 students recently travelled to the beautiful coastal city of Cartagena, located by the Mediterranean in the region of Murcia. For the duration of the trip students stayed with host families and received Spanish lessons each morning. The students also took part in a number of fun activities in the afternoons visiting a submarine, Roman theatre and also eating some of the local churros con chocolate. Students also took in the sights of two important cities Valencia, where they experienced their famous paella, and also Granada where they visited LaAlhambra, which is full of rich culture and history. They had a taste of what Spain has to offer for the Easter week – locally known as 'Semana Santa', tried variety of local foods, and participated in some of the traditional processions and festivities.  The students thoroughly enjoyed this exciting trip that gave them an opportunity to experience a different culture and all its traditions while soaking up the beautiful weather of the Mediterranean.
Gia, Grade 9 student:
"There is no better way to spend your holiday. Cartagena stole my heart and I thank everyone who made this possible"
Vance, Grade 8 student:
"The trip was an amazing learning experience and allowed me to always be in a productive learning environment. The families were so nice and the food was amazing! Cartagena stole my heart".
Joya and Jesper, Grade 8 students:
"Cartagena was amazing! The experience is something that I we will never forget! And I can only hope that we can return again one day."
Published on: 23rd April 2015