Southbank beats Marymount in varsity football 3:1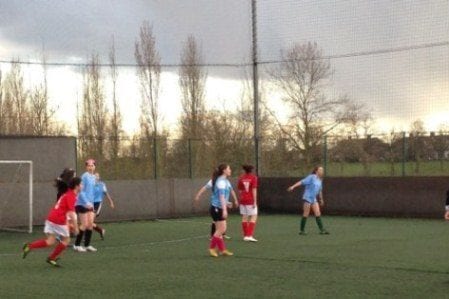 Southbank are still celebrating after beating the very strong Marymount team in the first fixture of the varsity football competition at Wimbledon. It was a much anticipated match, and Southbank Sharks did a great job, especially considering that the team went into the game without a trained goal keeper. Each half was 20 minutes each way, the first half saw both teams make some big tackles, missed shots, and midfield counter attacks. Sharks took the lead after 15 minutes, with a great strike from Sophia. Goal keeper Jasmine kept the girls in the lead with a great save in the 20th minute.
The second half saw the midfield of Romy, Iris and Keiko dominating Marymount. Linking passes, moving the ball quickly and taking the early shots. A great ball from Britten who fed the ball through to Karina, saw Southbank go 2-0 up. The strong communication from Norah held the defence strong, creating another goal for the Sharks. The girls finished the game 3-1. A great result! Well done ladies!
Published on: 27th March 2015