Action through the Arts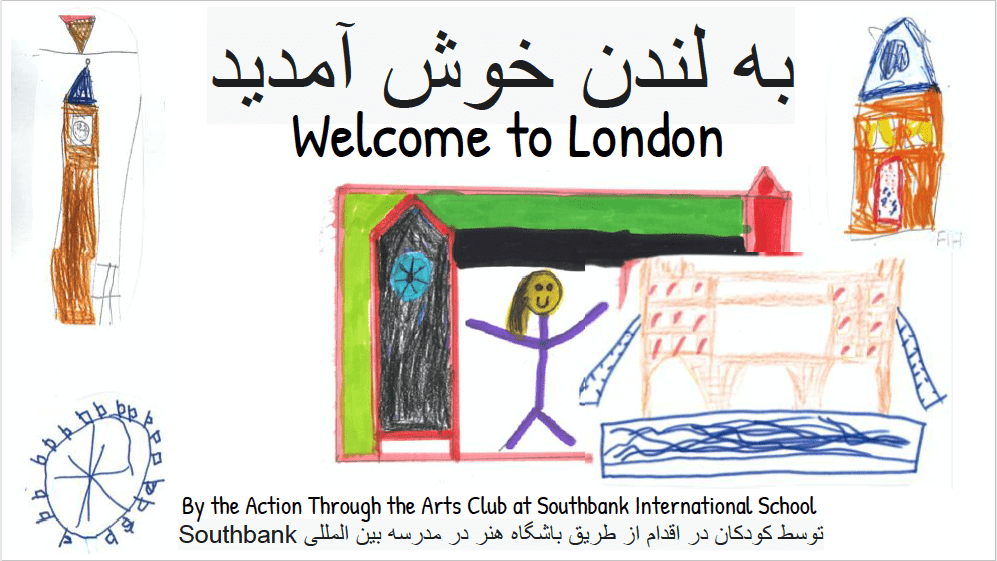 The Action through the Arts Extra Curricular Activity (ECA) gives students at our Kensington campus a chance to use their artistic talents to take action. This term they used some of their ECA sessions to plan and make a book to welcome Afghan refugee children and their families to London. The idea to do this came from a Google Meet session with Joseph who works for the Royal Borough of Kensington and Chelsea. He told them how the council is helping the children and families who arrived here from Afghanistan this autumn.
First of all the students planned what they thought the newly-arrived children might need to know about London. These ideas were then arranged in a book and the students designed their own illustrations for it. Ms Nassiri, our EAL teacher, then translated the words of the book into Farsi-Dari (one of the languages used in Afghanistan). When the final draft of the book was sent to Joseph, he and his colleagues were so impressed with it that they have said that Kensington and Chelsea Council and Westminster Council will print the book to distribute amongst the Afghan families they are helping!
There are 679 refugees currently being looked after by Westminster City Council and 700 refugees being looked after by Kensington and Chelsea Council. More than half of these refugees are children and most of the families are being housed in hotels in the area. The council has launched this appeal for help if you would like to donate items for these families.
https://www.rbkc.gov.uk/community-and-local-life/how-you-can-help-afghanistan-crisis
The Action through the Arts ECA will also be running a stall selling crafts to raise money for Migrants Organise (who also work with refugees throughout the borough) and Honeypot (who work with young carers) at Southbank's Winter Market on Monday 13 December.
You can have a read of the book Action through the Arts students made here!
Final Welcome to London book Kensington Action through the arts
Published on: 29th November 2021