Southbank Grade 8 student wins national Art Bytes competition 2022!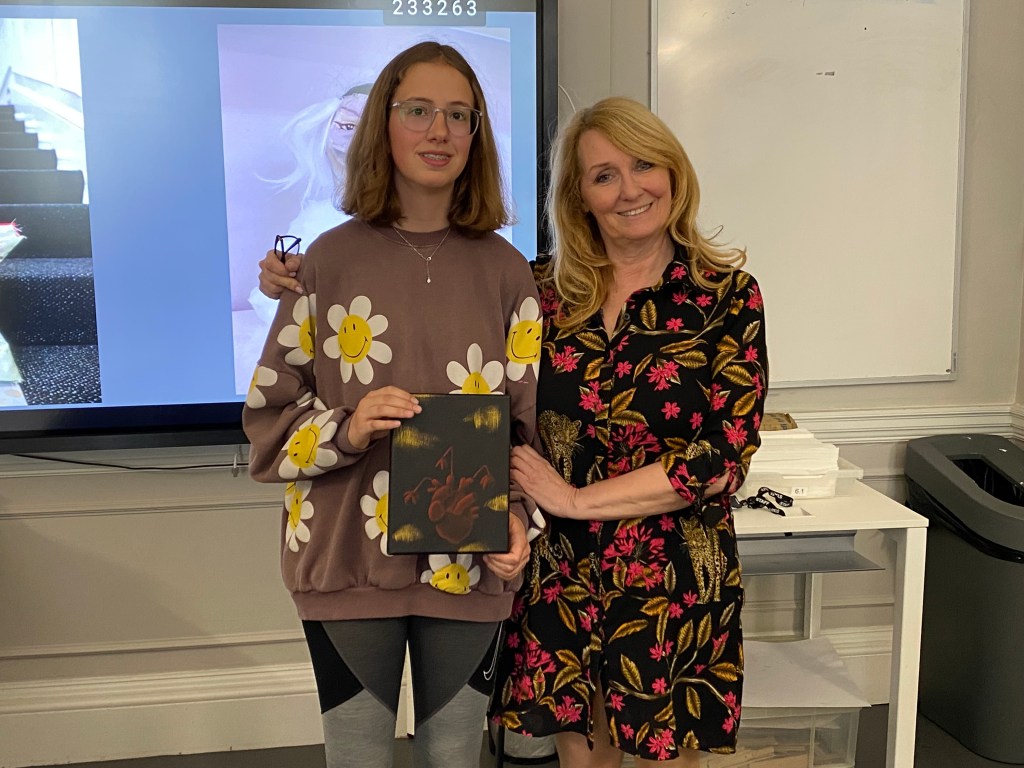 "Taking part encourages children to explore their artistic side, increasing their self-esteem by celebrating their art, as well as giving pupils a chance to express thoughts and feelings through creativity and raise their aspirations."
Art Bytes
We are delighted to announce that Grade 8 student Milla Haromo has won the national Art Bytes competition!
30 of our Middle-school Southbank students entered the competition, which is an inter-school, interactive, online art competition, open to only Grade 8 students and Grade 5 students.
The first stage of the competition invited votes from the local Southbank community. The top three students as voted for by the Southbank community were:
First place:  Milla Haromo for Hearts and Roses; Second place: Violet Buckland for Mundane moment; Third place: Marlowe McClelland for Cruella puppet
Nearly 100 schools entered the competition and over 1500 pieces of stunning artwork were submitted.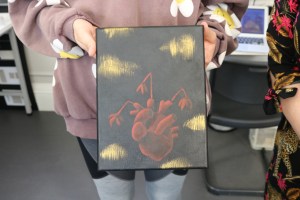 The next stage saw all the winners from each school go to a judging panel. Following this process, we are very excited to announce that the National winner of the competition over schools across the UK is one of our very own Southbank students Milla Haromo! Her beautiful painting entitled "Hearts and Roses" captured the hearts of the jury who included Marlene Wylie, President Elect for NSEAD the National Society for Art & Design Education, Paula Briggs Co-Founder, CEO and Creative Director of Access Art, a UK charity which aims to further the advancement of visual arts education.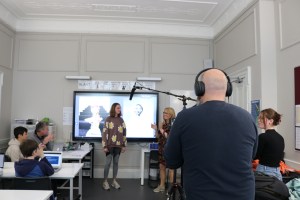 To announce the win to Milla, Art Bytes sent a film crew to capture the moment our winning student found out from art teacher Judy Inskip. Milla was interviewed on her win and this recording will be shown across the different cultural venues in the UK, where works will be exhibited. Our Southbank student's work will be exhibited in Camden along with works from other schools in the region.
You can watch the moment Milla found out she had won the Art Bytes competition here
We are extremely proud of our winner as well as all our students who entered the competition!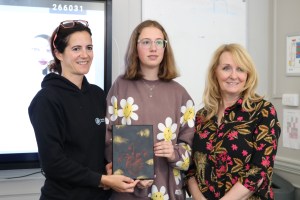 Art Bytes project manager Carolyn Murray said:
"We're delighted that so many schools have signed up and submitted artwork for the first year's competition, particularly as so many schools continue to grapple with the effects of the pandemic. We couldn't achieve this without the fantastic support of all those dedicated teachers that make this possible. Children and young people use their creativity to express themselves and display their incredible talents in such imaginative ways, and you can support these young artists by placing a vote for your favourite shortlisted entry."
 Marlene Wylie, President Elect, National Society for Education in Art & Design said:
"Wow! What an achievement, it is excellent knowing that close to 100 schools are participating nationally in this new competition. I remember vividly my experience of taking part in competitions at school and the important part it played in receiving recognition for something I was passionate about. Opportunities like this allows young people to develop self-esteem, confidence and a sense of achievement. Delighted to be involved in such important work!"
The competition's overall winners were chosen by the panel and will be announced via live stream and in person at celebration events in June. These celebrations are hosted by our cultural venue partners in the nine regions across England. As well as lending their expertise in arts education, each will host a celebration event in June:
Greater London: Camden Arts Centre, London
North West: The Whitworth Art Gallery, Manchester
North East: Baltic, Gateshead
Yorkshire and Humber: Leeds Art Gallery
East Midlands: Derby QUAD
West Midlands, The New Art Gallery Walsall
South West: Arnolfini, Bristol
South East: Modern Art Oxford
East of England, Wysing Arts Centre, Cambridgeshire
Published on: 17th June 2022