Southbank Summer Sports Camp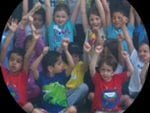 Southbank ran its inaugural Sports Camp for 83 Hampstead and Kensington students in the first weeks of the school holidays.
Held at the school's sports facilities at Charteris Sports Centre and in the glorious sunshine at nearby Grange Park, students further developed skills they had practised throught the year in PE and at After School clubs. In addition to tennis, dance, basketball and football instruction, Sports Camp participants also learned about the life and training regimes of elite sport athletes. Grade 6-8 students from our Westminster campus volunteered their time to assist in the running of activities and were great additions to the camp.
The students' enthusiasm, friendliness and passion for sport made for an excellent atmosphere and was a wonderful start to the summer.
Published on: 19th July 2013